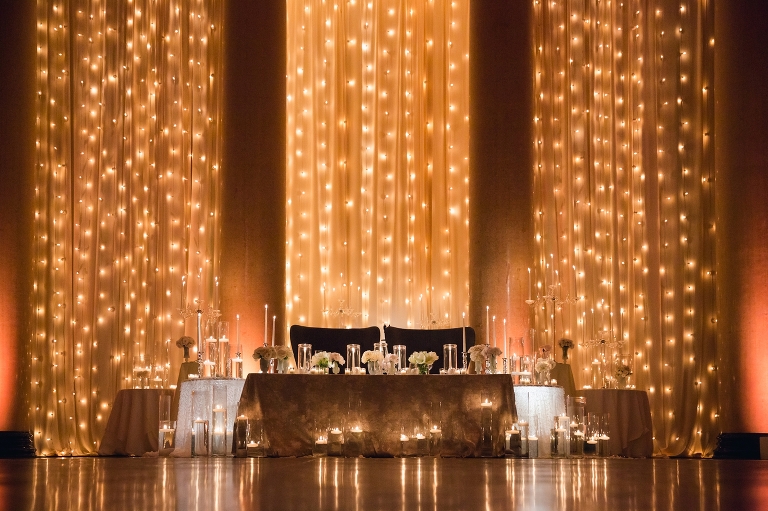 I've had the honor of photographing weddings for 10 years now… here are my top two biggest reception design mistakes for photography. I hope it helps with your future planning! Cheers!
1.) Where to sit the bride and groom during the reception. 
I am frequently surprised to see that so much detail and design went into the room of the wedding reception, but, unfortunately, not around where the bride and groom are sitting.  ( where we take lots of photos during the toasts)
What are the issues I see?
The bride and groom are placed right in front of the "seam" of the room. ( the divider for two ballrooms) – This is in most ballrooms, even the fanciest of ones
The bride and groom are placed right in front of a window/tent and it is pitch dark by the time the toasts are made. ( this is ok if you are in the city, and city lights are in the background… otherwise, it is just pitch black behind the B&G)
Here are some possible solutions:
Put the the sweetheart table away from the seam/windows/the plastic part of a tent, closer to the dance floor, so there are some decor items behind them and/or decorate the wall. ( twinkle lights, decor items, etc.)
If no sweetheart table, put the bride and groom in FRONT of the table vs. on the back near the wall. This helps also because sometimes you can't see the B&G behind the flowers, decor etc.
Decorate the exterior of the room as well as the interior of the room.  ( TIP : If using twinkle lights, the further you move the couple away from the twinkle lights, the less you'll see the detail of the actual lights in the photo… and the more pretty blur ( bokeh) you'll see.)
Turn the chairs around for toasts
Make toasts at the end of cocktail hour, or on the dance floor… be standing.
2.) Reception lighting. Exterior vs. Interior.

Light the exterior of the room (It looks sooo good), but, leave it there.
Lighting the dance floor can leave to odd shadows, blown out highlights, and movement/"ghosting" happening on the dance floor.
Unsure what to do?  Ask me!
xx Andrea
p.s. These photos are all of SUCCESSFUL designs big and small.